Blog
life on the water and around the woodlands.
Flat gold fish
01/07/2023
Practicing the art of printing fish, this one in sumi ink and acrylic on very thin Japanese paper.
Boats at Rickmansworth 2
01/07/2023
My completed drawing of the horseboat was selected for exhibition at the Society of Women Artists (SWA) exhibition at the Mall Galleries in June 2023.
boats at rickmansworth
16/05/2021
The historic narrowboats are out and about providing colour and inspiration on the waterways, always take the camera-and ask about the engine if it has one! here is a horse-drawn 'butty'
squirrel visit
21/12/2020
So, where have all the peanuts gone?
milly
06/12/2020
The local cats like to visit me and spend time in my garden, Milly does not smarten-up for the occasion.
Milly is my favourite cat.
ramster
15/10/2020
Fabulous autumnal acers at Ramster Gardens near Chiddingfold, a beautiful woodland valley with toasted sandwiches and great coffee.
Thursley
09/06/2020
Yet again many acres of the common were burned, we saw volunteers catching snakes and other wildlife to move them to safer areas.
cormorant
28/04/2020
today the cormorant visited, stood dripping and dishevelled on the edge of my dinghy, he doesn't catch many fish, I'm sure he frightens them!
excalibur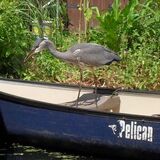 12/07/2018
excalibur thinks he's a Pelican, and his beak can hold more than his belly-can.
He has telescopic legs to enable him to reach the fish from this height..
foxglove
04/12/2016
Foxglove liked to sleep all day in my compost heap, excellent camouflage, privacy, and heating.